All Work
National Audubon Society Survival by Degrees
Exploring the impact of global warming on North American birds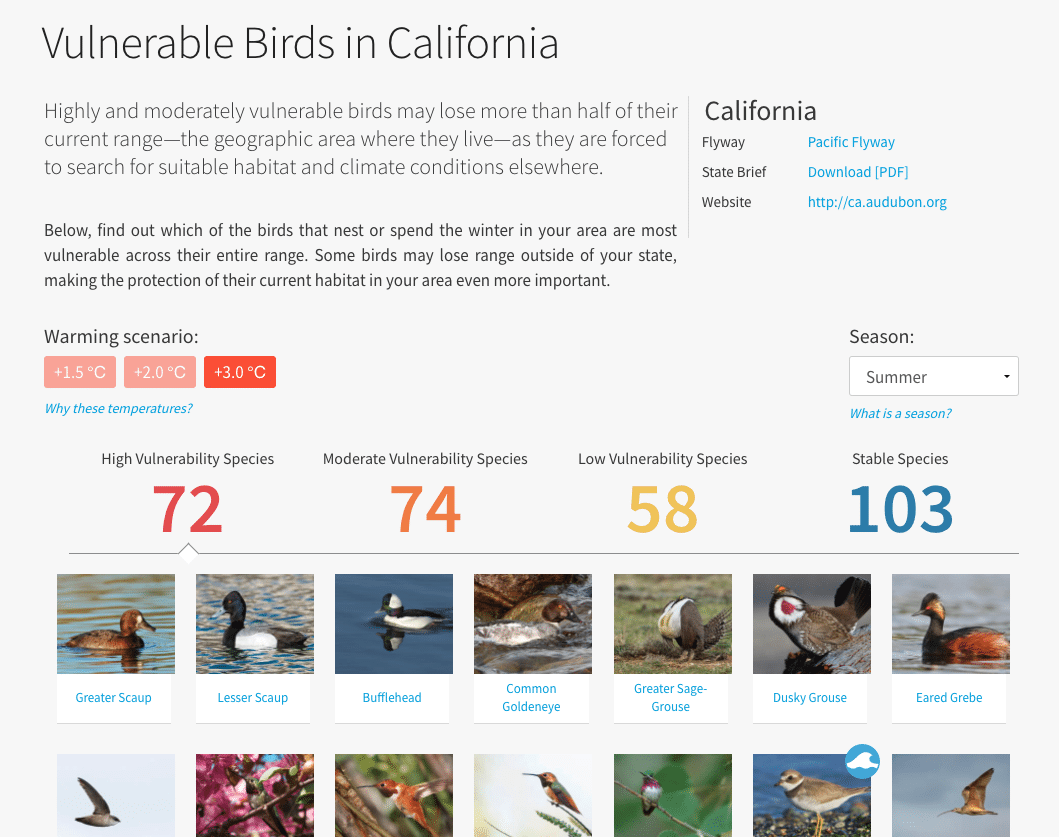 Background
The birds are in trouble. This was the stark message embedded in the National Audubon Society's climate report, Survival by Degrees: 389 Bird Species on the Brink, which reveals that nearly two-thirds of bird species are imperiled by current climate change projections. Audubon asked Stamen to use our data visualization expertise to illuminate this grim — but sometimes hopeful — story, creating visualizations of Audubon's latest projections of the impact of global warming on species across the U.S., Canada and Mexico.
This wasn't Stamen's first collaboration with Audubon. We first worked together in 2014, when Audubon asked us to create a set of range maps by bird species for its 2014 Birds & Climate Change report. In 2018, we once again teamed up with Audubon to create data visualizations to show the impact of climate change on bird populations in National Parks, which turned into a mural at the Yerba Buena Center for the Arts.
In this round of collaboration, Audubon's scientists made projections with much more bird data, and at a much higher resolution — over 140 million observations recorded, with resolution down to the 1km level, or 100 times the resolution of the previous data. They also expanded the number of species they studied. 
What we made
We mapped the vulnerability of these bird populations in North America across three climate change scenarios: 1.5, 2.0, and 3.0 degrees increase in temperature. With this larger data set we were able to show climate impacts at a much more granular level than ever before – enabling search by zip code, state or flyway to see the impacts of climate change scenarios on the local bird populations. The visualization uses color coding to clearly and immediately convey the dire consequences of climate change. 
Also included in the visualization are climate-related threats such as fire weather, heavy rain, and urbanization, which are exacerbated by climate change and contribute to disruption of bird populations. All of these threats influence bird habitats in some way, though they were not used directly in crafting the range projections. These threats to bird habitats from climate change are complex and interconnected.
Ultimately, this work tells a personal story: the story of how climate change impacts bird habitats at a very local level across the U.S.